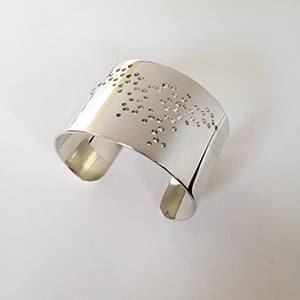 This chunky and heavy cuff was a custom design with the oxytocin molecule. It was a Mother's Day gift for a lady who wanted something more chunky and made from argentium.
Argentium is a sterling silver alloy that is less likely to tarnish and is usually 935 silver (sterling is 925).
This handmade oxytocin bracelet was designed to be a cuff that would stand out and look beautiful and bold. The design on the front of the bracelet is a representation of the oxytocin molecule, with the different holes showing each element of the molecule.

The oxytocin bracelet made a wonderful gift for a mother – the hormone is the bonding chemical and is especially present with parental bonds. For new mother's it's the hormone that creates attachment and (among many other things) enables mother's to produce milk.
Oxytocin Bracelet in the Making
Here are some images taken in my studio during the making of the oxytocin bracelet:

Oxytocin Jewellery
See the full range of oxytocin jewellery in my shop here: (If you want to create a custom piece like the cuff above then scroll down to contact me)
[etheme_product_category category="oxytocin-2″ per_page="6″ columns="3″ orderby="date" order="desc"]
[etheme_btn title="See the full Oxytocin Collection" url="http://emily-alice.com/product-category/oxytocin-2/" class="" big="4″ active="1″]
[shareaholic app="share_buttons" id="6481561″]
Do you want to create something special and totally unique?
Get in touch and tell me your idea and I'll let you know how we can get started.