Emily Alice's tips for jewellery care. Here at Emily Alice we use precious metals and they do react to the way they are treated! Here are some tips for keeping things looking new and well cared for.
What is tarnish?
Tarnish on silver and rose gold jewellery is an oxidization process mostly caused by sulpher in the air around us. That's what causes the discoloration in the metal. It completely natural – but the way you care for it is important.
How do I stop it?
One of the best ways to keep your jewellery from tarnishing is to wear it! When you wear it you are constantly polishing it and keeping it shiny. It will still get tarnished slightly but you will hardly notice the change.
If you are not wearing your jewellery, you need to keep it in a well sealed (airtight) jewelry box or in a plastic bag to protect it from oxidizing in the air. If it starts to oxidize then you should consider polishing it. If you choose to hang your  jewellery somewhere open or display it – it will tarnish. This is a completely natural process, if you want to avoid it keep it boxed or bagged.
Another way to help slow the tarnish process is to avoid letting your jewellery come into contact with perfumes and lotions and hairsprays (even natural ones). If this happens you can wash the jewelry in warm soapy water to help maintain the color you love. After you have worn your jewellery wipe it with a soft cloth to remove any finger oils that may cause discoloration.
How do I clean my jewellery?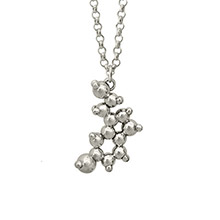 If you wear your jewellery regularly then it should stay polished, if it needs cleaning then you can use some warm soapy water and if you need it, a very soft old toothbrush can be used.
Silver Jewellery
If your silver jewellery is already tarnished then you will need to polish it.
You can use a liquid polish like Silvo and a soft cloth to gently clean away the polish according to their instructions, or you can use one of the readily available polishing cloths that are ready treated with polish.
Vermeil Jewellery (Gold and Rose Gold)
You should treat your vermeil jewellery with care – don't let it hang with other items and keep it well protected so the vermeil doesn't wear off.
If you take care of your vermeil jewellery it will have a long life!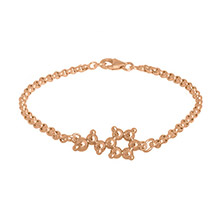 As with silver, gold jewellery can tarnish – especially rose gold. If it is tarnished, use some warm soapy water and an old toothbrush to clean it.
You can also buff it with a soft cloth, but try not to use any polishing compound or pre-treated cloths and these are abrasive and will begin to remove the vermeil.
If you don't want to do it yourself then you can take it to your local jeweler who should be happy to clean and polish your jewellery for you.
If you need your pieces re-plated please contact me.
Blackened Jewellery

Some of the pieces in my collection are given a black finish which is actually just a controlled oxidization.
Don't polish these pieces unless you want them to become silver!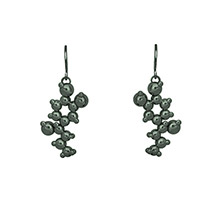 In fact as you wear these pieces they will slowly become more silver looking as the tarnish polishes away.
To have your pieces re-blackened please contact me.
Have a question?
Email me (Emily) here.