Parkinson's Awareness Month – April 2016

For the 5th year running I'm proud to be a PDF Champion.  I'm raising funds for Parkinson's awareness month and the funds that are raised will go to the Parkinson's Disease Foundation (PDF) which is a leading national presence in Parkinson's disease research, education and public advocacy. You can contact them for support, advice and more at the link above.
This year (2016) I'll be donating 20% of the purchase price from the 'dopamine molecule' and the new 'chocolate molecule' collection below to the Parkinson's Disease Foundation throughout April.
Why do I support PDF?
I'm donating again in support of my friend and customer Chantal and because it's important to me to support the kind of research that PDF funds. My collections are inspired by beauty and science, neuroscience to be exact.
If you are new to my jewellery then learn about my 'molecule' designs here, trust me, after reading this you'll get it, and love it.
Scroll down to see the collection of jewellery that you can choose from to support PDF. All pieces make great gifts and are designed and made by me (Emily) in my studio. Custom orders are available, please contact me if you would like to commission a special piece.
Thank you for shopping to support PDF this April!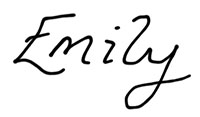 ——————————————————————–
Dopamine Molecule Jewellery – 20% to PDF

[etheme_product_category category="dopamine-2″ per_page="100″ columns="3″ orderby="date" order="desc"]
Chocolate Molecule Jewellery – 20% to PDF

[etheme_product_category category="theobromine" per_page="100″ columns="3″ orderby="date" order="desc"]